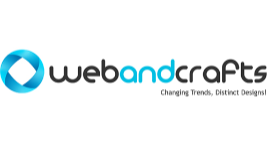 Office Location
Webandcrafts Technology Solutions Pvt Ltd, 1B5, 1st Floor, Indeevaram Building, SEZ Zone, Infopark, Koratty, Kerala.
Company Name
Webandcarfts Technology Solutions P...
Phone Number
+919288006669
Email Address
hr@webandcrafts.com
Website
https://webandcrafts.com/
CEO
Abin Jose Tom
Webandcarfts Technology Solutions Pvt Ltd
Having been known as a website development company in the initial stages, Webandcrafts have now blossomed into a global IT solution provider. Today, we create custom-made mobility solutions, web, and mobile applications, and dynamic digital marketing strategies for our customers in Asia, the Middle East, and Northern and Southern parts of America. The journey was not easy, but with a team of talented developers, designers, and managers, we have been able to make ourselves known to some of the big names in the industry and help them redesign and power up their digital marketplace. Along with other services, eCommerce development is a service we actively proffer and have been able to successfully land customers whose names are recognized worldwide.